Delivered within: 3-5 workingdays after receipt of payment
For the eighth pattern we chose a design by Emma Bear´s.
Emma has been creating bears since the late 1990s, eventually selling her own unique designs under the incredibly original name of 'Emma's Bears'. At first the bears were just a hobby, but it was one that soon became addictive. Over the course of nearly 20 years of designing, Emma has produced a rather extensive collection of her unique hand-drawn teddy bear designs, some of which she has released for other bear makers to use.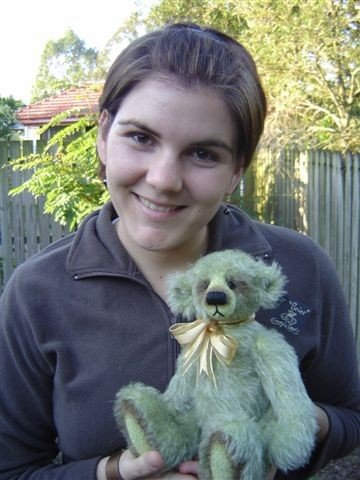 This little bear is an adaptation of one of her very early designs, and would look wonderful in a wide variety of contrasting colours and fabrics. Emma and her husband Mark run 'Emma's Bears' and the sister store 'Fur Addiction' from their home in Queensland, Australia, producing one of a kind handmade teddy bears as well as unique hand-dyed fur fabrics, hand painted glass eyes and many more bear making items. "

For more information about Emmo visit her blog on:
http://emmasbears.blogspot.com.au/p/about-me.html
Frido is a colorful bear, made from mohair and alpaka. He is about 38 cm high
The kit Frido contains:
- Pattern and description
- Enough mohair (70 x 50cm)
- Alpaca (35 x 25cm)
- Wool felt for the eyes
- Discs (10x 45mm)
- Washers (10x M4x20mm)
- Cotterpins (5x 3.5x36mm)
- Eyes (11mm)
- Nose thread

What do you need for yourself:
- Sewing Threads
- Stuffing materials