Lola ca. 50cm (Marjolein Vos)
Delivered within: 3-5 workingdays after receipt of payment

Since 1994 Marjolein Vos created bears and dogs, she used the name Mick Bears. Marjolein made her bears of long pile mohair with big eyes and used to dress them like children. The baby bears were her favorite, she called them: my premature babies.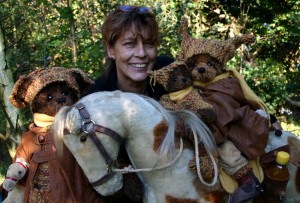 Marjolein has always given workshops, but never gave away her patterns.

Marjolein past away 18th November 2016, a few weeks before her 62nd birthday. Fortunately she has left many bears and photographs behind, so that we can still enjoy her creations.
ProBear has taken over all of her designs. These are now available.
Lola, a ±50cm sized dog.
Pattern in dutch and german.

This dog is also available as a kit. Prices on demand.
To create Lola you need:
- Mohair (50 x 140cm)
- Pawfabrics (23 x 25cm)
- Discs (4x 60mm, 2x 75mm & 2x 25mm)
- Cotterpins (4x)
- Washers (8x)
- Eyes (18mm)
- Nose thread
- Sewing Threads
- Stuffing materials